Trampoline safety is very important, and there are a few things that you can do to insure that your children are at their upmost safety.
First, and most importantly you should have an enclosure system on your trampoline.  You can buy a complete enclosure system which comes with the enclosure poles, net, and pole foam.  These enclosures are ordered by frame size, and the amount of U or W legs. You also need to measure the leg pole diameter for mounting equipment.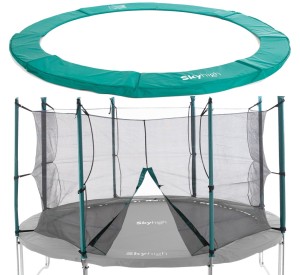 Another key component is the trampoline safety pad, which covers the springs.  These come in various shades and varieties, and are ordered by frame size.
Along with these parts, basic trampoline etiquette will help reduce injury.  Trampolines are made for a single jumper at a time and it always wise to jump under parent supervision.