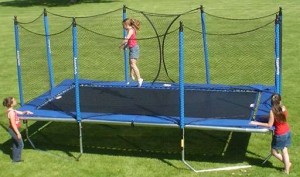 In the market to buy a trampoline, but not sure which one to get?  You might want to consider a rectangle trampoline. Why you ask?  Rectangle trampolines are more sturdy than round trampolines and actually have a greater bouncing surface.  Who doesn't enjoy that?!
Rectangular trampolines offer a higher bounce and absorb more landing impact than that of its round competition.  Round trampolines tend to direct the jumper toward the center of the mat, restricting and limiting the jumpers surface area.  While rectangle trampolines offer you the freedom to where ever your heart desires!
Although a rectangle trampoline is a bit more expensive, it will last longer than a round trampoline making it a better investment.  Take a look at the different sizes of rectangle trampolines that we have on our website.